Sports Conditioning Testimonials | Weight Management Testimonials | What Other Trainers Are Saying About John
Sports Conditioning Testimonials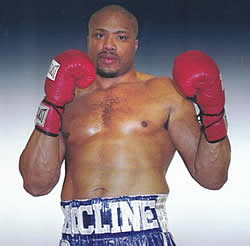 6' 6" 270 lb. Jameel McCline was the most courageous and athletically gifted heavyweight boxer I have ever worked with. If he ever puts it all together, he could be one of the best of all time.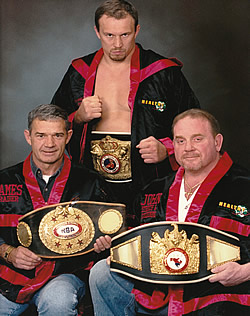 My name is Alexander Zolkin. I was born in Moscow, Russia. I fought over 200 amateur boxing matches and won a number of professional heavyweight boxing championships. With extreme frustration from a close decision in a WBO World Heavyweight title bout, I decided to retire in 1996. After being out of the boxing ring for three years, I felt I still had the ability to become the world heavyweight-boxing champion. Proper training and hard work would get me back into the ring. I realized, early on, that the most important aspect of my comeback would be my strength, conditioning and nutrition. I was fortunate enough to find John Schaeffer. During my last WBO world championship fight in November 1996, I was 6'6", 233lbs. with 18% body fat. After the 3-year layoff, using John's strength, conditioning, and nutrition concepts, I am currently fighting at 250lbs with an astounding 8% body fat. My strength, speed and endurance have shown noticeable increases allowing me to become a more skillful boxer with both a faster and harder punch. Since my comeback, I have 5 straight victories with 4 knockouts. I am looking forward to my next opportunity to fight for a world heavyweight title.
Alexander Zolkin, (Professional Boxer)
Moscow, Russia
Ranked #5 - World Boxing Organization
above photo: One of the best heavyweight boxers of his time,
Alex Zolkin. Shown here with James and John.
Thank you for all you have done for me. Your knowledge is the key that separates winners from losers. Thank you for the counsel of a father or brother. But, most of all thank you for believing in me. I dedicate this United States Championship win to you and you're Winning Factors, they rule!
Sam "Thunder" Fulton (Ultimate Fighter)
Birmingham, Alabama
MACK Heavyweight World Kickboxing Champion
United States USB Heavyweight Kickboxing Champion

"The Winning Factor concepts have helped me soar to the pinnacle of professional athletics."
Anthony Clark, (Power Lifting),
Houston, TX
The World's Strongest Man has set world records for the heaviest bench press ever, the heaviest squat in history and All-Time Heaviest Total.

above photo: Anthony Clark in his prime as the World's Strongest Man.
He was the first man to total over 2,400 lbs. and bench press 800 lbs.
Twenty-one-year-old Mikhail Starov traveled halfway around the world from the Ukraine to train under John's guidance. He set 12 world records at the 1996 World Power Lifting Championship in New York City. When asked about his training, Mikhail statement was, John is the best strength trainer I have ever seen with the knowledge of training, nutrition and supplementation."
Mikhail Starov (Power Lifting)
Ukraine (former Soviet Union)
IPF World Champion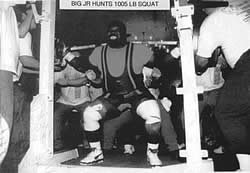 I attribute a big part of my success to John's training and nutrition concepts. John's training concepts rule.
JR Hunt (World's Strongest Man Competitor)
Washington, DC
IPA 5 Time World Champ, (Strongest Powerlifter In The History of the Sport Over 40)

above photo: Big JR Hunt at 440 lbs. is a huge heavyweight.
He is the strongest man in the world over 40 years old.
Before I started training with John, I was just a club fighter. NOW, I am a contender. My body composition was 218lbs with 20% body fat. I am currently 240lbs and 15% body fat. Hand speed, endurance, power and strength have all increased significantly. John, you are the best.
Craig Thomlison,
Heavyweight Contender, Pro boxer.
Reading, PA

Before I started with Winning Factor, I struggled with 4 rounds of professional boxing. After one month working with John and his principles, I was boxing 10 strong rounds. Even though my current record stands at 17-0, since the time with John, I have gone 8-0 with all first round knockouts. Hand speed, punching power, and foot speed have improved significantly. I am very happy I found the Winning Factor. Thanks.
Kermit Cintron, Pro Welterweight Boxer
WBO WORLD WELTERWEIGHT CHAMPION
READING, PA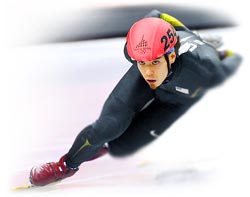 John Schaeffer's programs are incredible; your level of performance will be taken to new heights.

Apolo Ohno
GOLD MEDALIST
US OLYMPIC SPEED SKATING

I have played Field Hockey and Soccer in high school and college. Never have I been in such great shape as I am now. The conditioning program at Winning Factor is the best.
My hand speed and punching power has increased dramatically. I have had no problems keeping my weight down and consistent.
Connie Bechtel, Pro Boxer
Lancaster, PA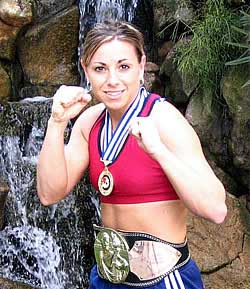 Winning Factor has given me the tools to become one of the top women pro boxers in the world. Winning Factor training systems are boss. I will be fighting for the lightweight world championship this summer. Thank you Winning Factor.
Angie Woolum, Pro Boxer
WWBO No 1 ranked women lightweight
US OLYMPIC WORLD CHAMPION (FIGHTING)
I went to see John Schaeffer at the Winning Factor. The first thing I tried was his boxing nutrition and what an amazing improvement in my energy, strength, as well as my body's hardness. The difference just from nutrition was amazing. I decided to try his strength and conditioning program. I am even more impressed with the results. Everything is improving speed, power, strength, and endurance. His system is awesome.
Micheal (no joke) Stewart, Pro Jr Welterweight Boxer
30-1 WBO NO 9 ranked
New Castle, DE

John is the main man!
(Merciless) Ray Mercer
1988 OLYMPIC GOLD MEDALIST
WBO HEAVYWEIGHT WORLD CHAMPION

John's programs are really awesome, no matter what sport you compete in. Winning factor's state of art programs will improve your performance, and take your abilities to the next level.
Christy, Pro Jet Ski Racer
5 Time World Champion
Chicago, IL

I have been in the boxing game for a lifetime, What changes I have seen in the fighters John has worked with was nothing short of amazing. Winning Factor's strength and conditioning definitely takes a fighter to new levels of efficiency.

Ralph Citro, Pro Boxing Cut Man
Corner man for 100 + world championship boxing Contest

I only wish I would have started John's programs sooner. I have never experienced nutrition or training more effective. If you truly want a winning advantage, there's only one place Winning Factor.
Robin Cole NFL Pro Linebacker
3 Time All Pro
NFL Player's Rep.
Pittsburgh Steelers

My appearance and the condition of my body is my career. There are no better programs then what John offers, his system of training and nutrition are awesome.
Valarie
Pro fitness competitor
International Model
Playboy Centerfold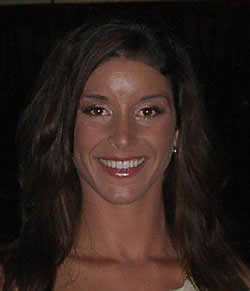 John's training is some of the most intense I have ever experienced, it will without a doubt take you to the next level of excellence.
Allison Baver
US Olympic Speed Skating Team

Well to put in mildly, if you want results. John Schaeffer/ The Winning Factor is the
ONLY real deal. I recommend John and The Winning Factor to anyone that wants results!! It has worked for me!! Thanks for all your great help!!
Jimmy "Deo" Eschbach
Former Pro-Wrestler
Former Independent World Heavyweight Champion (11 times)
Former Tag Team Champion (Assault & Battery) managed by Lou Albano.

When I came to John, I was in the top 20 in the state in swimming. Within 1 year of doing John's program, I won districts and set records at them and then went on to win and set records in PA states. Thanks for allowing me to achieve my goals and helping me get what I wanted: a full ride to Lehigh University for swimming.
Tom Gilbert
Robesonia, PA

I started John's programs at 16% body fat at 195 lbs. In one summer, I went to 8% at 215 lbs. and unbelievably a lot better and am recognized as one of the top three high school football players in the nation.
LeSean McCoy
Harrisburg, PA

I am a high school baseball pitcher and have been training with John for 2 years. My weight went from 155 lbs. to 200 lbs. at 10% body fat. My speed on my fastball went from 78 mph to 89 mph and is still improving. My overall athleticism has improved radically, as well. I look forward to pitching for a top Division I college which I will make a commitment to in the near future.
Zach Ludwig
Pottstown, PA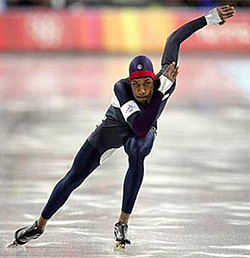 I just started John's programs and am just amazed at the positive changes in just a 2 week time span already.
Multi-World Champion and Olympic Gold Medallist Long Track Speed Skater
Shani Davis,
Chicago, IL
Weight Management Testimonials
I could not believe that at age 54, my body could be reshaped. My lean mass increased by 34 lbs and I lost 30 lbs of fat. My % body fat dropped from 31.5% to 18%. I feel great. Thank You, Winning Factor.
Larry
Reading, PA
President – Family Restaurant Chain
A number of years ago, I started having hip and spine problems. After renewing my friendship with John Schaeffer, I started training under his nutritional and exercise program. After several weeks, I started to feel better. I was amazed at the results. My pain subsided and I prolonged my surgery for 3 years. After hip replacement surgery, I resumed the nutrition, supplementation and exercise routine. My % body fat dropped from the low 20's to the outstanding 11% which I currently maintain at 65 years of age.
Dr. Job Menges, MD
Reading, PA
Orthopedic Surgeon
When I first started at Winning Factor, my weight was 130, body fat at 20%. Within 2 weeks, my weight dropped to 125 lbs. but more astonishing was the drop in body fat to 12%. I was ecstatic at the results in such a short period of time. The nutrition program designed for me has proven to produce more energy and stamina and I feel great.
Keep up the care and professionalism your people portray. Thanks Winning Factor.
Denise
Reading, PA
Working with a Personal Trainer at Winning Factor has been everything I hoped it would be. The nutritional program has made me feel better internally. I have not felt this good in years. The physical part of the program is also working. After 4 weeks, my body is changing. With the high repetitions, I am firming my body and not becoming bulky. I feel stronger and more in control athletically. Additionally, I love the friendly, personal staff and atmosphere that is hard to find at the big fitness facilities.
Sue
Reading, PA
Retired Field Hockey and Track Coach
I started with Winning Factor nutrition and exercise program about 2 months ago. My weight was191 lbs and I suffered from severe pain in the lower back from degenerative disc disease. I also suffered from lack of sleep from the back pain. Since joining the program, I have lost 20 lbs and 2 clothing sizes. The pain in my back has disappeared. I now sleep through the night, waking in the morning refreshed. I have plenty of energy throughout the day. Thanks so much Winning Factor!!!
Kim
Reading, PA

I have been lifting weights on my own for eight years. I had reached the point where I thought I knew everything there was to know about lifting weights. Working out with Mr. Schaeffer has provided me with the knowledge to shorten the duration of my workouts and at the same time achieve greater results.
Joe
Reading, PA
The Winning Factor has provided nutritional guidance along with support in improving my current physique through proper biomechanics.
Regan
Leesport, PA
I had been lifting weights for the past 6 years. I heard about Winning Factor and decided to give it a shot. The intense training and nutrition guidelines have given me better results than any other program I had previously been on. Now, I know the key elements to proper weight training, which makes it easier for me to reach my goals.
Dave
Wyomissing, PA
The professionalism displayed at the Winning Factor far exceeded my expectations for a personal training center. The weight training and nutrition program has taken me to next level of physical fitness in an amazingly short period of time. I'll be competing in my first bodybuilding competition at 42 years young. Keep up the high standards. Thanks Winning Factor.
Mike
Shillington, PA
The goal of the Pasadena Police Academy is to offer consistent and professional training for the betterment of law enforcement. John Schaeffer's' systems exceeded these expectations and was overwhelmingly impressive. Thank you.
Sergeant K. W. Wingerson, Academy Coordinator
Pasadena Police Academy
Pasadena, TX
My main two goals when I came to Winning Factor were to lower my body fat and learn how to use my new home gym. Winning Factor has exceeded my hopes and expectations in the short time I spent here. My body fat dropped from 26% to 12% and my weight went from 127 to 120 in just 5 weeks. More importantly my motivation to better my body internally and externally has been rejuvenated. The Winning Factor is a unique blend of nutrition and exercise with a personal touch coupled with outstanding knowledge. Thank you for your caring and dedication. It has been a wonderful experience for me.
Deena
Oley, PA

I feel absolutely 100% fortunate to have found Winning Factor. I had lowered my body weight successfully on my own; yet, I had lost muscle tone. My body fat was at 36% when I started the customized nutrition program and personal training. Now after two months, my body fat is at 22%. My strength and endurance have increased greatly. My weight also dropped an additional 12 pounds. A left knee injury that I sustained about a year ago which had improved slowly is now totally functional and pain free.
The results I have achieved in this short period of time are much more than what I expected.
Roberta
Fleetwood, PA
Federal Veterinary Medical Officer

I only had twenty pounds to lose, but I just could not get them off no matter who I went to. My body composition hung between 22% and 24%. After six months of training and nutrition from the Winning Factor, I easily lost the excess weight and maintain a body composition of 14%. I feel better than I ever can remember.
Laura
Ephrata, PA

I've been to every nutritionist and physician in the area where I live seeking advice on weight gain because of a number of chronic health related issues. My body was constantly losing weight and I just couldn't accomplish any weight gain. Finally I tried the Winning Factor nutrition and training programs and in five months my lean mass went from 128 lbs. to 152 lbs. and my total weight improved considerably.
Jamie
Shillington, PA

I'm a computer programmer by trade and don't do a lot of physical work. My energy levels were horrible, I had back issues, and I needed to exercise badly. I tried Winning Factor nutrition and training programs and in a three month period of time had an amazing transformation. My back problems dissipated, my energy levels increased dramatically, my lean mass increased from 158 lbs. to 184 lbs. and I lost a total of 20 lbs. of body weight at the same time. The programs are awesome.
Bill
Mohnton, PA

I was in a severe car accident and was having difficulty performing simple, every day tasks. I sought the expertise of numerous healthcare professionals, only to be disappointed with the results. Just as I was most frustrated and ready to give up, I tried the Winning Factor programs and nutrition and was amazed at how quickly I started to improve. Within six months, I was back to a full, functioning lifestyle.
Sonja
Reading, PA
What Other Trainers Are Saying About John
"John was incredible. I feel it was a real treat to have his knowledge
presented this week."
Mat
Certified Fitness Trainer
Boulder, CO

"John conveyed the information in the most understandable way possible.
He did a fantastic job and I learned more than I ever hoped to!"
Justin
Certified Fitness Trainer
San Antonio, TX

"He made the class a blast and I learned a lot while we were having fun!"
Che
Certified Fitness Trainer
Sorrento, FL

"John is really knowledgeable on everything and he made sure everyone was included in the group discussions and that no one was left out."
Jeffery
Certified Fitness Trainer
Naples, FL

"Best Instructor I have ever had!"
Keelan
Certified Fitness Trainer
Franklin, TN

"The best seminar I've seen. John kept eye to eye contact was personal, efficient and extremely proficient!"
Chris
Certified Fitness Trainer
Jonesboro, GA
"He has an amazing educational career which facilitates his ability to execute efficient lectures. Application of science to training is excellent!"
Paula
Certified Fitness Trainer
Miami, FL

"If I could afford to not have to work for a year, I would do so, and watch John work for a year. (With pleasure)"
Willie
Certified Fitness Trainer
Tampa, FL

"John Schaeffer is very knowledgeable!"
Travis
Certified Fitness Trainer
Snellville, GA

"John Schaeffer is above-and-beyond anyone I've ever learned from in the athletic training area. If possible I'd really want either a week or a month being trained at his Facility in Pennsylvania."
Barry
Certified Fitness Trainer
Hickory, NC

"John is awesome explained things very clearly-easy to apply at the gym!"
Lesley
Certified Fitness Trainer
Franklin, TN

"Mr. Schaeffer presented magnificent examples & practical applications"
David
Certified Fitness Trainer
Conyers, GA

"Best seminar I have ever attended. Presented well, made excellent points and created reminders for vital information. This seminar gave me a desire to stake out on my own as an independent trainer."
Michael
Certified Fitness Trainer

"John made the course material come alive and applicable to us as trainers. John Schaeffer presented information in a very interesting way and he encouraged questions."
Lani
Certified Fitness Trainer

Mr. Schaeffer taught an excellent class and we completed the seminar knowing that we have the tools to be successful personal trainers.
Bruce
Certified Fitness Trainer

Knows the fitness business and his [John Schaeffer] business. Very, very professional and honest."
Janet
Certified Fitness Trainer

"Mr. Schaeffer was very knowledgeable in the field of fitness. He helped us all during his Biomechanics portion of the course. I wish I could spend about two weeks just training with him. Thank you."
Gary
Certified Fitness Trainer

"Blew my mind with his [John Schaeffer] common sense descriptions of what seemed complicated to me! He knows so much!"
Christina
Certified Fitness Trainer

"An impassioned speaker [John Schaeffer]. Easily explained and very informative."
Maurice
Certified Fitness Trainer

"He's [John Schaeffer] awesome - I would gladly have him again."
Michelle
Certified Fitness Trainer

"John Schaeffer knows more than an encyclopedia - he is almost too qualified (in a good way). He [John Schaeffer] is charismatic and showed enthusiasm.
Crissie
Certified Fitness Trainer

A nice guy [John Schaeffer] and a hell of an instructor, good speaker also."
Leon
Certified Fitness Trainer